Torgir, Traù in Italian, is one of the best preserved little village of Dalmatia. From 1977 The old town is part of UNESCO heritage. Founded by Greeks, is a great example of medieval architecture perfectly preserved. I will tell you what to do and what to drink in this pearl of Adriatic Sea.

How to arrive
Easy to reach by bus or by car. Trogir is really close to Split and many buses on this road will stop here. Almost every 20 minutes you have connection with public transportation. Trogir is situated on a small island between the coast and the Islan of Čiovo. Town is connected by bridges and you can easly move by bike or on foot. I will suggest you to avoid to drive especially in summer, village is really small and packed of cars around the old town.
To travel by bus I use this website: getbybus.com. You can see majors companies and buy tickets.
You have also local buses, cheaper but slower. Anyway I think this is the best solution to go to Split, only 21Kn: www.promet-split.hr
Same bus from the airport in Split. Actually the airport is really close to Trogir, around 10 minutes.
Old town, UNESCO hermitage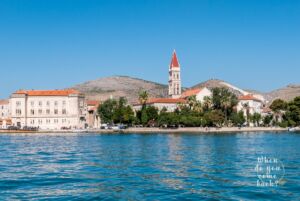 Old town of Trogir is part of hermitage of UNESCO. Is one of the best preserved medieval village in all Croatia. Walk in the small streets is a pleasure, especially during hot afternoon during summer. Just walk without a target, you will discover authentic galleries of local artists and art-craft shops. You can have an ice-cream, my favorite gelato is Don Dino. I didn't try any restaurants, too much expensive for me. For a complete dinner you can spend around 2-300Kn. I'm sure is wonderful quality, but not for my pockets.
Taste local wines and cheeses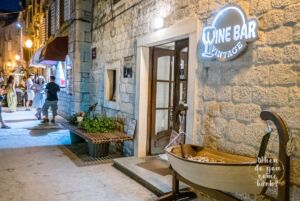 Special mention goes to a wine-bar in the old town. Owner and waiters are really kind and their knowledge about local wines is extremely accurate. In this bar you can taste the best wines of Croatia and have a little meal with local cheese. Atmosphere during the evening is special and the music is the perfect soundtrack for a unique evening with a special friend.
Beaches around Trogir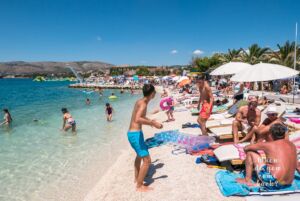 The medieval village is on a little island, you don't have beaches. Close to it there is the island of Čiovo. You can find big or hidden beaches can fit to your taste. Water is warm and clear. The most popular area is in Okrug Gornji, you can reach by foot (40 minutes), by bike, by taxi or rent a scooter, I didn't see any public transportation.
Main sights
Historical city core, with about 10 churches and numerous buildings from the 13th century, just walk trough them.
The city gate (17th century) and city walls (15th century).

The Fortress Kamerlengo (15th century).

The Duke's Palace (13th century)

The Cathedral (13th century) with the Portal of Master Radovan, the unique work of this Dalmatian artist.

The big and small palaces Cipiko from the 15th century.

The city loggia from 15th century.
Painter and friend: Marta Lučin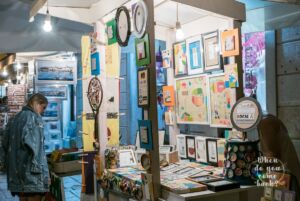 Trogir is full of artists, stop to speak with them, ask about their job and be human!
As I like to speak and to meat people I must introduce you to an exceptional person: Marta. She is a local painter and during summer season she has a stand close to the north city gate. I cannot judge her job, I understand nothing about art. But I met a wonderful person and it's not really common. When you go there say hi to her and support her to finish School of arts. I had a great time and I spoke my horrible Croatian, she was so patients and nice!
Marta Lučin painter Instagram account
See you soon and have a nice trip
Marco