Sarajevo, I have to write something about this place. I could start with the usual cliché of multicultural city, the meeting between East and West, the place where people live in peace and cordiality. I do not think that you believe in fairy tales, so I'll try to write my point of view, after almost two years of my experience.
I'm in love for Sarajevo. I have not yet encountered a city that would welcome me in this way. I have not found a better place. I like people, I like to walk through the old town (Baščaršija), I like the structure of the neighborhoods. It is a city that welcomes you, captivates you, bewitch you.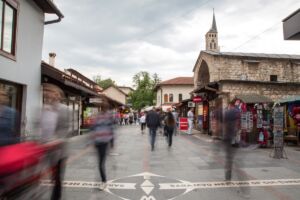 I'm not here to tell you how much it is easy, beautiful and serene living in Bosnia and Herzegovina, do not be dumb. It 'a state with immense employment problems, tax evasion, with a rate of crime and corruption among the highest in Europe, and where laws to protect the environment "struggling" to be applied.
It remains one of my favorite place.
Something just to make a general history idea. The state was formed after the breakup of Yugoslavia and a bloody war in the nineties (link to wikipedia for the Yugoslav wars).After the Daytona agreement has started a delicate balance that allowed the end of hostilities. The main ethnic groups (Catholics, Orthodox, Muslims) had control over a part of the country. Even the institutions are divided into three. There are three presidents with shifts of eight months, one for each ethnic group, elected directly by the electorate every two years. This complex structure is replicated in a similar way in most institutional positions. The state is split between Republika Srpska, Federation of Bosnia and Herzegovina and Brcko District. You have a vague idea of the confusion? Welcome to Bosnia and Herzegovina.
I cannot tell you about Sarajevo in a cold way, sterile. I don't want.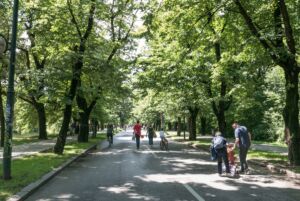 Then I start to tell you about my favorite place in town: Vilsonovo (Šetalište Vilsonovo). A tree-lined road along the river Miljacka. At 5 pm every day becomes pedestrian. Throughout the year you can meet people who walk, returning home from work, taking a coffee. Or just sit on the benches. One of favorite places from young couples to have a moment of tranquility and relaxation. In June, the scent of Linden invades every corner and to walk in the shade of the huge trees always makes your day better.
Vilsonovo is definitely my favorite place in town. The national museum, the historical museum, the bar Tito, all overlook this great tree-lined avenue.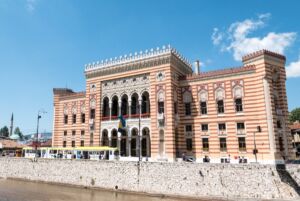 Vijecnica is the ancient library of Sarajevo. Completely destroyed during the war is now a museum. Reopened in July 2014 houses an exhibition of the history of the twentieth century and is home to events such as exhibitions and concerts.
Sebilj is a wooden fountain in the center of the homonymous square in the historic center. Ottoman-style house has been restored several times. The wooden decorations are typical of the region.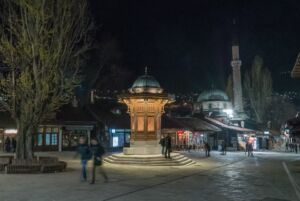 The best way to experience the city is on foot. Walk. Walk through the streets climbing up the hills. Stop in bars. Inform yourself of the concerts that often take place in the myriad of bars and restaurants distributed in the city. Taste the Burek (meat) or in versions with spinach, potatoes, cheese (zelianica, krompiruša, sirnica). Dive yourself in a ćevapi with onions and kajmak. Do not miss Rakija, the typical alcoholic beverage. It is a vine distillate which may be flavored: apple, plum, quince, cherry, honey, pear, peach, strawberry …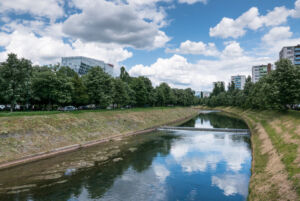 Sarajevo is slow, in one or two days you will try only a sample a small bite, which usually tastes of peppers or onions. Stop by as much as you can. You can spend a week? You will not regret it. There are no big buildings or big avenues like most of the capitals, there are people. Usually they need more time to be approached and known.
Normally I do not advertise, but Danijela is an exceptional person, so if you need any tourist guide in the city feel free to write her and you will find a nice friendly and smiling person www.exploresarajevo.net
If by chance you pass by Sarajevo call me for beer or coffee!
Have a nice trip
Marco