I would say that with jus this phrase I can summed up perfectly my daily experience in Plovdiv.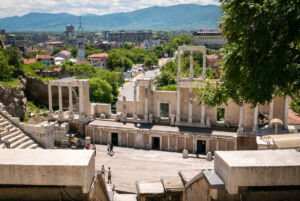 It is considered one of the oldest cities in Europe, the first settlements date back to 6000 years ago. Only over the past decade, by random excavations, it was discovered the Roman stadium along the main street. The amphitheater instead was discovered during the construction of the tunnel under the old city.
Plovdiv summarizes the various bulgarian colonizations: Greeks, Romans, Ottomans, the communist time … The city is a pleasant often chaotic architectural mix. The Kapana district (the trap) is a lively tangle of narrow streets filled with bars and art galleries.
I try in vain to learn some word, they are similar to Serbian, but different and my memory does not help me, it's so easy to say something with nonsense!
Two days go mainly to taste wine. I pleasantly discovered the Bulgarian wines, from reds and intense to whites similar to the raisin. Fantastic to being in the city during the Bulgarian wine weekend. What better opportunity to get closer to the local culture.
In the hostel you always meet fantastic characters and I spent my morning at Old Plovdiv Guest House, it has brought a pleasant chatting with a Canadian man. I do not know why, I do not know where he comes from, do not know anything about him, but we shared wine experiences 🙂
The hostel was great, you sleep in a medieval-style rooms and .. the breakfast alone is worth the full price! And 'perfect when you are all together the best features of a structure: cleanliness, friendliness and location.
In the late morning I went to Free Plovdiv Tour and the tourist guide was simply amazing. You can really feel that she do her job with passion. Knows a lot of the city and she is really able to keep the attention of the audience for almost 2 hours!
Now it's time to go to the north of Bulgaria
See you soon!
Marco