Lake of Iseo is one of the bigger mountain lake in the Europe, for sure there is the biggest island inside a lake (Montisola). On the south border there is a natural reserve of Torbiere and from the top border starts Valle Camonica. Just with those few informations you can understand that the most important things you can find here is nature!
You can reach the lake by car, by bus with different companies (it depends of the village) or by train (Brescia-Iseo-Edolo line). Every village on east border have the railway and is so easy to stop and to walk in the center. I was born in brescia, so I know a lot of the area. I walked on the mountains, around the lake. I went by motorbike, by car, on ferryboat.
The last time I went to a place for the first time. Is in Marone (click here for the map). I was with friends an a couple from Saint Petersbourg. Couch surfing is a perfect way to know people all over the world wherever you are.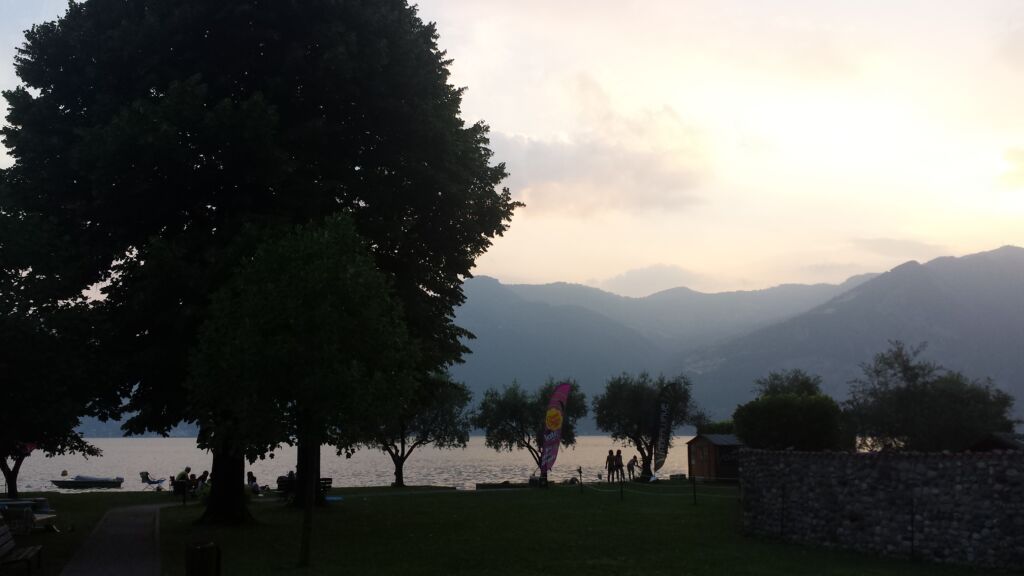 We went there, we bought a pizza and some fried fish, we open a blanket on the grass and we spoke drinking an homemade beer. I like to wait the dark speaking about life and general things with friends. We were at the Lido (click here for the page). It's a really nice place, you can drink a beer and eat something, sit down on the bench or walk on the grass barefoot.
When I go out with friends I don't like noisy places, I like to speak (maybe you don't remember). I don't like when in a bar the music is so loud that I cannot hear my friends, yes I know I'm getting old! What I can do, every age has the best and now for me the best is to spend time with friends.
This place is very relaxing, no noise, no car, no many people. I went on July and it was so silent. Maybe on Friday or Saturday night should be noisy, but you can always choose what you prefer and go when is the best for you.
You can go by bike all around the lake (list of paths), it will be a great tour. You can stop in one of random restaurants on the coast and have a rest. Can you ride a bike after a good Italian lunch? It is up to you, I cannot… ride a bike 🙂
Have a nice trip
Marco